Welcome!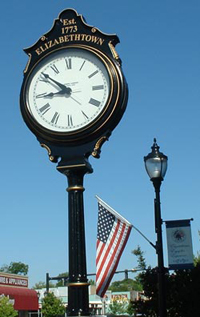 Elizabethtown is the county seat of Bladen County in southeastern North Carolina. Bladen County has been called "The Mother County" due to the fact that fifty-three current North Carolina counties were carved out of the original land grant made to Martin Bladen. Located on the bank of the Cape Fear River at the intersection of highways US 701 and NC 87, the quaint little town of Elizabethtown has a rich history.
Elizabethtown is the site of a pivotal battle between Tories and Whigs fought in 1781 when 69 brave Patriots routed over 300 Tories encamped in a ravine beside the Cape Fear River. That battle is said to have begun the "turning of the tide" in the south toward a patriot victory.
It is to honor those 69 brave men that Founding Regent Mrs. John McDowell and the ladies of Elizabethtown chose to charter their chapter of the National Society Daughters of the American Revolution in 1928 as the Battle of Elizabethtown Chapter.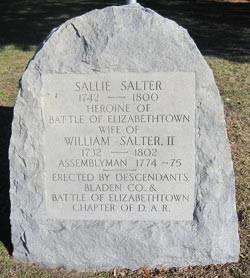 Memorial for Sallie Salter,
heroine of the
Battle of Elizabethtown.
A woman by the name of Sallie Salter volunteered to pretend to sell baked goods to the Tories and act as a spy to gain information that could be used in the attack ("Battle of Elizabethtown"). The Whigs, using her information, attacked at nightfall, surprising the Tories and claiming victory.
Campbell, Mrs. Carl, comp. "Cain's Account."

Battle of Elizabethtown: Whigs broke Tory power in Bladen County, August 1781, Driving them into Tory Hole

. Bladen County, NC: Bladen County Historical Society, 1957. Print.
Photo courtesy of Lesley Looper.
The content contained herein does not necessarily represent the position of the NSDAR. Hyperlinks to other sites are not the responsibility of the NSDAR, the state organizations, or individual DAR chapters.