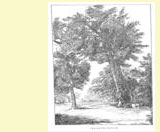 General Davie Poplar Tree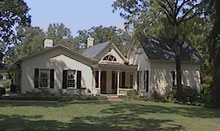 The Horace Williams House
in Chapel Hill, NC
The Davie Poplar Chapter meets
once a month, September
thru May.
Chapter Information
The name of "Davie Poplar" was adopted in honor of General William Richardson Davie and the large tulip poplar tree on the campus of the University of North Carolina under which General Davie and his committee decreed that "on this spot shall rise the State University."
The Davie Poplar Chapter of Chapel Hill was organized on December 29, 1928. Mrs. I. H. Manning was appointed Organizing Regent by Mrs. E. C. Gregory, State Regent. Five of the original thirteen members, Mrs. I. H. Manning, Mrs. W. S. Bernard, Mrs. R. B. Lawson, Mrs. Collier Cobb, and Mrs. Wallace D. Patterson, transferred from General Davie Chapter in Durham, also referred to as the "parent chapter." The additional charter members were Mrs. Irene F. Lee, Mrs. F. H. Edmister, Mrs. J. A. Warren, Miss Estelle Rankin, Mrs. G. M. Braune, Mrs. Jefferson Bynum, Mrs. Frank Cameron, and Miss Mary L. Cobb.
The Davie Poplar Chapter is an "offspring" of the General Davie Chapter in Durham, North Carolina.
Membership Information
Any woman is eligible for membership who is no less than eighteen years of age and can prove lineal, blood line descent from an ancestor who aided in achieving American independence. She must provide documentation for each statement of birth, marriage, and death.
To learn about qualifications for membership, please visit the National Society DAR web site.
If you are interested in visiting our chapter, click HERE to send an e-mail.
The content contained herein does not necessarily represent the position of the NSDAR. Hyperlinks to other sites are not the responsibility of the NSDAR, the state organizations, or individual DAR chapters.