Membership
Any woman is eligible for membership who is no less than 18 years of age and can prove lineal bloodline descent from an ancestor who aided in achieving American independence. She must provide documentation for each statement of birth, marriage, and death. Go to the National Society DAR Membership Webpage to learn more.
Steps to join the DAR
Step one — Find documents to prove lineal descent from your patriot ancestor to you
Step two — Find a chapter near you
Step three — Complete application process with the help of your chapter registrar
Visit our Chapter
Send us an email if you are interested in attending a meeting to find out more about our chapter. Let us know the best way to contact you.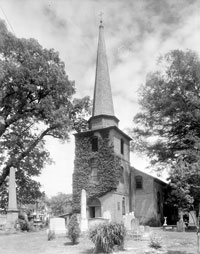 St. Paul's Church
Photo courtesy of Wikimedia
You do not need to complete an application worksheet before attending a chapter meeting. You do not even need to have identified your patriot ancestor. By attending a local chapter meeting, you will meet DAR members who have the experience to assist you in obtaining your goal of DAR membership.
Application Process
For the application, you will need to provide proof of vital links for each generation, starting with yourself then going back lineally to your patriot. The chapter registrar or chapter lineage research chairman can help explain the types of documentation needed. You can go to the National Society DAR Genealogy Webpage for more information.
The content contained herein does not necessarily represent the position of the NSDAR. Hyperlinks to other sites are not the responsibility of the NSDAR, the state organizations, or individual DAR chapters.