Activities
The Joseph Kerner Chapter NSDAR supports our community and participates in many activities in keeping with the National Society's objectives of historic preservation, education, and patriotism.
Historic Preservation
Support the National Society in the preservation of the NSDAR buildings
Participate in local historic programs and events
Support the preservation of local historical sites and venues
Education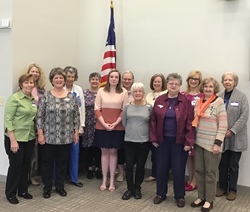 Photo Courtesy Chapter Archives


Chapter members honor the DAR Good Citizens Award
state winner.
Create Constitution Week displays in two area public libraries
Sponsor DAR American History Essay Contest for area 5th grade students
Sponsor the DAR Good Citizens Award and Scholarship Contest for high school seniors in four local schools with a recent state winner
Provide information to applicants for the DAR College Scholarship Program
Sponsor a teacher in the DAR Special Projects Grants program with a recent state winner
Support Crossnore School and Children's Home
Support literacy by reading to students in area schools
Patriotism
Photo Courtesy Kernersville News


A Vietnam Veteran receives a pin for his
service and sacrifice.
Support of United States veterans by assistance with errands and chores
Recognize local veterans and their service to America by becoming a partner of the The United States of America Vietnam War Commemoration
Collect cancelled stamps for veterans programs
Distribute small U.S. flags to children marching in July's annual Miss Mary's Children's parade on the town courtyard
Participate in Bells Across America on Sept. 17 to honor the signing of the Constitution
Honor public servants by delivering baked goods to area police and fire stations
Present DAR medals and certificates to outstanding Army Junior Reserve Officer Training Corps (JROTC) and Civil Air Patrol (CAP) cadets in three area high schools
Present DAR Youth Citizenship medals and certificates to outstanding students in two area elementary schools
Participate in naturalization ceremonies
Collect canned goods for local food banks
Collect household supplies for the women's shelter
Collect grocery coupons for families stationed overseas to use at Base/Post Exchange
Collect new layette items for "Baby Shower for Female Veterans"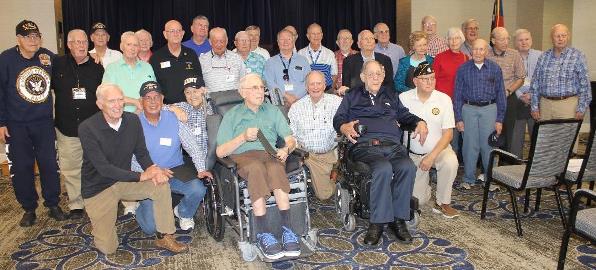 Photo Courtesy of Chapter Archives  
Vietnam Veterans receive pins and thanks for their service and sacrifice
at the Commemorative Pinning Ceremony.
The content contained herein does not necessarily represent the position of the NSDAR. Web hyperlinks to
non-DAR sites are not the responsibility of the NSDAR, the state organizations, or individual DAR chapters.