Photo Courtesy Jimmy Haire Photography
Chapter Patriots
Listed by state of service are the names and ranks for the ancestors of the Joseph Kerner Chapter NSDAR members. This list includes Patriots of the American Revolution and ancestors who contributed to the independence cause through civil or patriotic service. (Please note that the information below does not constitute proof of lineage and cannot be used in place of record copy.)

Connecticut
Solomon Lee, PS
Perrin Ross, LT
Georgia
Maryland
John Mills, CAPT
Alice X Orrell, PS
Massachusetts
Joshua Crockett, LT
Ebenezer Gardner, PVT
Elijah Luce, CDR
Solomon Pierce, LT
Jeremiah Fogg Thoits, LT
New Hampshire
New Jersey
North Carolina
Roger Badgett, PS
Solomon Burroughs, PVT
John Crouse, CAPT
John Dixon, PVT
Barnett Idol, PS
John Koons, PVT
Bartholomew Marion, PVT
Abraham Reese, PS
Solomon Stevenson, Sr., SOL
Jacob Utley, CS, PS
Henry Wood, PVT
Pennsylvania
South Carolina
John Bethea, PS
Solomon Burroughs, PVT
John Nesbitt, PVT, PS
Virginia
James Allen, PVT, CS
James Ellison, Jr., SOL, PS
John Green, COL
Lewis Hancock, PS
Enoch Osborn, CAPT, CS
Joseph Piatt, PVT
Henry Walton, CAPT, CS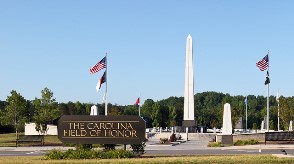 Photo Courtesy Forsyth County Parks & Recreation at Triad Park


The Carolina Field of Honor is a symbol of historical fact that our community has the highest respect and honor to our veterans.
The content contained herein does not necessarily represent the position of the NSDAR. Web hyperlinks to
non-DAR sites are not the responsibility of the NSDAR, the state organizations, or individual DAR chapters.