About Our Name
Leonard's Creek Chapter, NSDAR, was named for two American Revolutionary War heroes who lived in the Leonard's Creek and Abbott's Creek area of what was then Rowan County, N.C.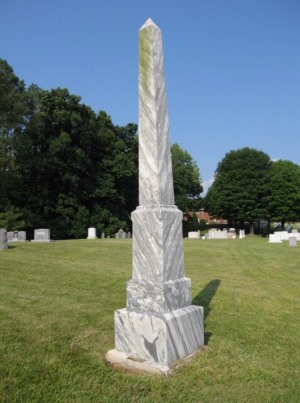 Monument Erected to
American Revolutionary War Patriots

Photo Courtesy Leonard's Creek Chapter Archives
Valentine Leonard was one of the first settlers of Abbott's Creek, later called Leonard's Creek. He married Elisabeth Wallacher and they had several children together. A tailor by trade, Leonard became a farmer on his new land. He was not a young man when the American Revolutionary War began, but he joined and so did all his sons. Following the Battle of Guilford Courthouse, he returned to his farm. Late one evening he was shot by a band of Tories. His neighbor, Wooldrich Fritz, was shot and killed the same night. Leonard died 11 days after he was shot on Nov. 13, 1781. These two brave men are buried at Pilgrim Reformed Cemetery on Old Pilgrim Road.
On their monument they share are the words:
"The heroes buried in this spot were cruelly assassinated in their own homes by Tories near the close of the Revolutionary War. They were patriots and bravely fought for American Independence."
The content contained herein does not necessarily represent the position of the NSDAR. Web hyperlinks to
non-DAR sites are not the responsibility of the NSDAR, the state organizations, or individual DAR chapters.