Chapter History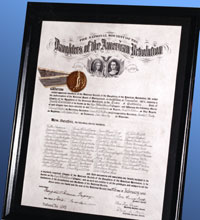 Chapter's Charter at
75th Anniversary Tea
Photo Courtesy Melanie C. Ford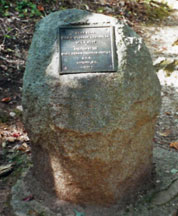 Kings Mountain Marker
Inscription: Here fell
Major William Chronicle
Oct. 7, 1780
Erected by the Major William
Chronicle Chapter
DAR Gastonia, N. C. 1930
Photo Courtesy Melanie C. Ford
The Major William Chronicle Chapter, NSDAR, was organized Nov. 28, 1924, under the leadership of Grace Alexander Johnston and was officially chartered on February 12, 1926, with 50 members. A list of the charter members appears below.
The chapter is named in honor of Major William Chronicle who was killed during the Battle of Kings Mountain on Oct. 7, 1780, at the age of 25. For more information, please visit Profile of Major William Chronicle page.
On June 18, 1930, the Major William Chronicle Chapter, NSDAR, unveiled a marker erected in the Kings Mountain National Military Park in South Carolina. Officiating at the dedication ceremony was chapter member Vennie Stewart Atkins. A large boulder was removed from the Belmont home of Major Chronicle and placed at the park along with a bronze plaque.
On May 10, 1996, the chapter commemorated its 70th anniversary with a wreath-laying ceremony at Pisgah Associated Reformed Presbyterian Church Cemetery which was attended by DAR officials, members, and family descendants.
On Feb. 9, 2001, the chapter held an anniversary tea in celebration of the chapter's 75th anniversary of its chartering. On Jan. 9, 2015, the chapter held a Service of Remembrance to commemorate their charter members.
The Major William Chronicle Chapter, NSDAR, was the first North Carolina chapter to mark the grave of a daughter of a Revolutionary War soldier, Mrs. Elalah Pratt Fulton Featherstone, on Feb. 22, 1926, in the Pisgah Associated Reformed Presbyterian Church Cemetery in Gastonia, North Carolina.
Today, our chapter members remain dedicated to promoting patriotism, preserving American history, and securing America's future through education and service.
Charter Members
Vallie Woodruff Anderson
Frances Atkinson
Valerie Stewart Atkins
Mary Love Barksdale
Barbara Clapp Bowen
Martha Ross Boyce
Catherine Rebecca Carson
Matilda Carson
Nannie Crawford Carson
Elva Rankin Chandler
Francis Aline Reid Cooper
Bertha Arrowood Gatling
Mary Lou Glenn
Lucia McLees Groves
Grace Alexander Johnston
Sue Ramsey Johnston
Helen Foster Johnston
Sarah Evelyn Johnston
Delia Lily Johnston
Kate Pearl Johnston
Rachel Auld Key
Alice Ford Kincaid
Martha Glenn Kindley
Elizabeth Lineberger
Martha A. Lineberger
Lena Rhyne Little
Nena Rhyne Long
Sarah Elizabeth Love
Lucy Rankin McLean
Elizabeth J. Miller
Susie Evelyn Love Norman
Dorothy Nims
Estelle Lindsay Proffitt
Ida Pursley
Mary V. Ramsey
Lillian Clinton Rankin
Elizabeth W. Rankin
Sarah Edna Rankin
Lela Shuford Reid
Lula Riddle
Lowry Shuford
Eleanor Rankin Spratt
Stacia Wideman Thomson
Carrie White Todd
Annie May Barnett Wilkins
M. Elizabeth McGill Whitesides
Eliza Lindsay Willis
Osie Shuford Wilson
Lois Campbell Wilson
Oeland Barnett Wray
The content contained herein does not necessarily represent the position of the NSDAR. Hyperlinks to other sites are not the responsibility of the NSDAR, the state organizations, or individual DAR chapters.