Historic Preservation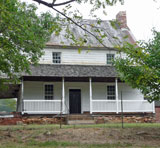 Hoyle House
Photo Courtesy Melanie C. Ford
The Major William Chronicle Chapter, NSDAR, supports two local programs dedicated to preserving American history as well other local special projects.
Hoyle Homestead
Hoyle Historic Homestead, Inc. is a 501c(3) dedicated to the preservation of the Peter Hoyle House located at 1214 Dallas Stanley Highway in Dallas, North Carolina. It is believed to be Gaston County's oldest remaining home structure and has unique log corner-post construction.
Smith Cemetery
Smith Cemetery
Photo Courtesy Melanie C. Ford
Smith Cemetery Historic Preservation Association, Inc. is a 501c(3) dedicated to the preservation of Smith Cemetery located on Belwood Drive in Belmont, North Carolina. This cemetery dates to 1765 and is one of Gaston County's oldest cemeteries. Originally known as the Leeper/Armstrong family burial ground, it had become an overgrown field by 2009. Since then, more than 65 broken headstones have been repaired.
On October 15, 2016, a ceremony was hosted by the Mecklenburg Chapter, National Society Sons of the American Revolution; the Major William Chronicle, NSDAR; the William Gaston Chapter, NSDAR; the Catawba Valley Chapter, National Society Colonial Dames 17th Century; and Smith Cemetery Historic Preservation Association in marking the graves of American Revolutionary Patriots Matthew Armstrong and Matthew Leeper.
Using the grave dowsing technique, the current project is to mark all of the unmarked graves with a small stone.
Special Projects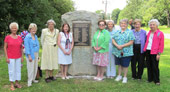 Tryon Resolves Marker
Photo Courtesy Melanie C. Ford
The chapter led a project to replace a bronze plaque stolen from the Tryon Resolves monument located on the Tryon Court House Site, North Carolina, Highway 274, near Bessemer City, North Carolina.
Placed in 1919, the plaque commemorated the Tryon County Committee of Safety against the British. This committee penned a document known as the Tryon Resolves which preceded the Declaration of Independence by 13 months. The replacement plaque was dedicated on Aug. 25, 2013.
In 2017, a chapter member found a broken NSDAR grave marker. Through research, we learned that the marker belonged on the grave of Nancy Rankin Morris, who was a former member of the William Gaston Chapter, NSDAR. We partnered with the William Gaston Chapter to repair the broken marker and on June 11, 2018, it was replaced and rededicated.
The content contained herein does not necessarily represent the position of the NSDAR. Hyperlinks to other sites are not the responsibility of the NSDAR, the state organizations, or individual DAR chapters.