Welcome!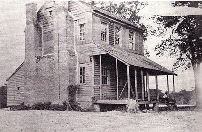 Home of Colonel John Hardee
& the first Courthouse in Pitt County
Photo courtesy: Susanna Coutanch Evans
Chapter archives
The members of the Susanna Coutanch Evans Chapter National Society Daughters of the American Revolution (NSDAR or DAR) welcome you to our website to learn more about the chapter and about DAR. The chapter is chartered in Greenville, North Carolina, located in the county seat of Pitt County, which is recognized as the hub of eastern North Carolina. With a population of over 80,000, Greenville is home to East Carolina University, including the Brody School of Medicine and the School of Dental Medicine.
DAR Courthouse Marker

Photo by: Ruth Petersen
The Susanna Coutanch Evans Chapter was organized on May 17, 1979, under Organizing Regent Doris Ballengee, with 17 members. The chapter, which began with a focus toward education and the promotion of patriotism, is the second DAR chapter to form in Greenville. In 1932 Greenville became home to a DAR chapter known as the Greenville Patriots, which existed for a short period of time and then disbanded. During that time, the Greenville Patriots commemorated with markers the site of the first courthouse of Pitt County and the fact that George Washington had visited our town.
DAR Courthouse Marker
Commemorating George
Washington's Visit

Photo by: Erin Frost
Our chapter is named for Susanna Coutanch Evans, in recognition of her generous donation of the land on which Greenville was founded. Visit the chapter's History, Acitivities, Membership, and Patriots pages to learn more about the chapter and how you, too, can become a member of our great service oriented and patriotic Society!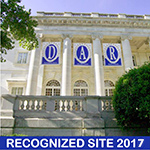 The content contained herein does not necessarily represent the position of the NSDAR. Hyperlinks to other sites are not the responsibility of the NSDAR, the state organizations, or individual DAR chapters.