Welcome!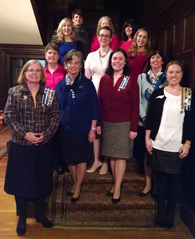 Photo by Judith Patterson
The William Hooper Chapter of the Daughters of the American Revolution (DAR) welcomes you to learn more about our chapter and our organization. Our chapter was formed in January 2015 by fourteen members. These women wanted a chapter that met in the evening to accommodate their busy schedules. We are involved in service projects focused on the goals of patriotism, historic preservation, and education.
Chapel Hill is located in Orange County, North Carolina, and is home to the University of North Carolina Tar Heels. It is part of the thriving Triangle Region of North Carolina, close to Raleigh, Durham, and Research Triangle Park.
William Hooper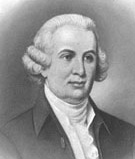 William Hooper
Image courtesy of North
Carolina State Archives
William Hooper was a lawyer, physician, politician, and member of the Continental Congress representing North Carolina from 1774 through 1777. He was also one of North Carolina's three signers of the Declaration of Independence.
Chapter Meetings
The ladies of the William Hooper Chapter meet in the evenings every month, September through May, at 6:00 p.m. Our programs focus on historical topics, genealogy, and volunteer efforts. We welcome visitors and prospective members. Please contact us if you are interested in attending one of our meetings.
The content contained herein does not necessarily represent the position of the NSDAR. Hyperlinks to other sites are not the responsibility of the NSDAR, the state organizations, or individual DAR chapters.