Education and Crossnore School
Education
The NSDAR is passionate about educating America's youth and supports a variety of different programs, contests, and awards to help further this goal. The DAR website offers many different resources that teachers may find useful when they are teaching subjects such as the American Revolutionary War, family history/genealogy, the colonial period, and early America. Teachers and students are encouraged to explore the available resources and take advantage of the different programs DAR offers.
Crossnore School & Children's Home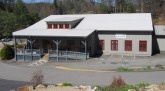 Photo by Gayle Culbreath
  Blair Fraley Thrift Shop
Since 1903, the Society has been helping children in remote mountain areas receive an education. The Crossnore School in North Carolina is an approved DAR School.
The Crossnore School was founded in the early 1900s to give the children from the mountains and foothills of North Carolina a home while attending public schools in Avery County. Today The Crossnore School provides a sanctuary of hope and healing to children from families in crisis through residential group homes, quality education at Williams Academy (on—site charter school), and a variety of therapeutic, recreational, and spiritual programs.
For more information visit the Crossnore School Website and the Crossnore School Facebook page.

Photos by Marilyn Ball
        Sloop Chapel and the Ben Long Fresco Painting in Sloop Chapel


Photo by Marilyn Ball
      NSDAR Approved Schools Bus Tour Visits Crossnore School

The content contained herein does not necessarily represent the position of the NSDAR. Hyperlinks to other sites are not the responsibility of the NSDAR, the state organizations, or individual DAR chapters.