Welcome!
The Edenton Tea Party Chapter NSDAR was founded in 1948. Since then our ladies have been involved in historical preservation, promotion of education, and the encouragement of patriotic endeavor. The Daughters of the American Revolution (DAR) is one of the world's largest and most active non-profit, non-political volunteer women's service organizations. We welcome your interest in learning more about our chapter and hope to hear from you.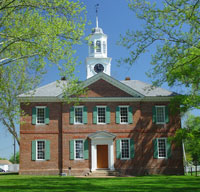 Chowan Courthouse
Photo above courtesy Chowan County
Tourism Development Authority
About Edenton
Edenton was the first permanent settlement in North Carolina and the "mothertown" of the state. Edenton at once became the focal point of civilization in the province, the capital of the colony, and the home of the royal governors.
Originally incorporated in 1712 as "The Towne on Queen Anne's Creek" the spot was named Edenton in 1722 in honor of Governor Charles Eden.
Edenton was established in 1712 as the colonial capital of North Carolina, and it soon became the cultural and economic capital as well. Hundreds of ships made the town a regular port of call, offloading food and goods, and shipping the prolific agricultural products of the region to European ports. The result was a thriving plantation economy that brought life to northeastern North Carolina.
Students of history are familiar with the Boston Tea Party, but how many have heard of the Edenton Tea Party? In 1774, over fifty of Edenton's leading ladies signed a pledge to cease use of East India Tea, thus showing that southern merchants were in accord with their Boston cousins in opposing British taxation. On October 25, 1774, a mass meeting of citizens, presided over by Penelope Barker, gathered at the courthouse and publicly denounced the unjust imposition of taxes and prosecutions and condemned the Boston Port Act, openly declaring, "The cause of Boston was the cause of us all."
"The Edenton Tea Party," as it came to be known, was one of many colonial-era events that helped position Edenton as one of the most important ports on the east coast.
The content contained herein does not necessarily represent the position of the NSDAR. Hyperlinks to other sites are not the responsibility of the NSDAR, the state organizations, or individual DAR chapters.