Welcome!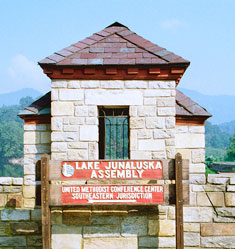 Entrance to
Lake Junaluska Assembly

Photo from Wikimedia
Lake Junaluska is a sparkling jewel in the mountains of North Carolina that offers peace and tranquility to its residents and visitors. This beautiful area is home to the Hugh Rogers Chapter of the Daughters of the American Revolution (DAR). Nearby historic Waynesville is the county seat of Haywood County.
Cold Mountain is located to the south of Lake Junaluska in the Pisgah National Forest. This mountain was made famous by Charles Frazier's book and subsequent movie by the same name.
During the Revolutionary War, Hugh Rogers — who raised his family in the Fines Creek area — fought at The Battle of King's Mountain with George Washington's patriots. See more about Hugh Rogers and other patriots in the links on the left.
The Hugh Rogers Chapter engages in community services in addition to state and national activities to meet our National Society's goals of education, patriotism, and historical preservation. This chapter actively supports residential DAR schools for children in crisis and also actively serves veterans and the veterans hospitals.
Visit the links on the left to learn more about this active and growing chapter. For more information and membership information, contact Chapter Regent Carol Litchfield (cltchfld@aol.com), or our Registrar Effie Atkinson (eatkinson@hotmail.com).
The content contained herein does not necessarily represent the position of the NSDAR. Hyperlinks to other sites are not the responsibility of the NSDAR, the state organizations, or individual DAR chapters.