Welcome!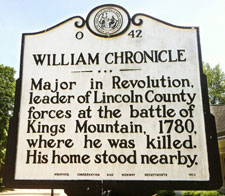 Photo Courtesy Melanie C. Ford
The Major William Chronicle Chapter of the Daughters of the American Revolution (NSDAR or DAR) welcomes you. We are excited to have the opportunity for you to learn more about our chapter.
We are located in Gastonia which is in Gaston County; formed from Lincoln County in 1846. This area has abundant local history and genealogical resources.
Our chapter is named in honor of Major William Chronicle who was killed during the Battle of Kings Mountain. Organized in 1924, our chapter was officially chartered on February 12, 1926. For more information, please visit our Chapter History and Profile of Major William Chronicle pages.
Our meetings are held on the second Friday in September, November, January, March, and April at 11:30 a.m. Meetings feature a program related to historical preservation, history, education, or support of veterans. For more information, please visit our Calendar page.
Our members support many local community activities and DAR activities that promote education, services and historic preservation. For more information, please visit Awards and Scholarships, Service Projects, and Historic Preservation pages.
For information about becoming a member, please visit our Membership page.
If you would like to visit one of our meetings or if you have any questions, please contact us via email.
The content contained herein does not necessarily represent the position of the NSDAR. Hyperlinks to other sites are not the responsibility of the NSDAR, the state organizations, or individual DAR chapters.