History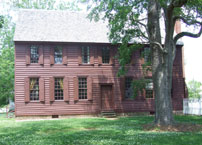 Palmer-Marsh House
Photo courtesy: Susanna Coutanch Evans
Chapter archives
Significance of the Chapter's Name
When Pitt County was formed in 1760, its inhabitants realized there was no town within its boundaries to serve as a county seat. It was not until 1771 that an "Act for Laying Out a Town of Martinsborough on the Land of Richard Evans" was passed by the Assembly. Since Evans died before the transaction was legalized, it was his widow, Susanna Coutanch Evans, who "confirmed to the Commissioners" this land for the town to be laid out. The area was later renamed Greenville and is situated on the Tar River.
Susanna was the daughter of Sara Pilkington and Michael Coutanch. Her father built a house in Bath, North Carolina, where it still stands on Front Street. A remarkable feature of the house is the chimney, which covers most of the side of the house. Called a "pants chimney" it gives the appearance of a pair of pants standing on the waistband with legs in the air. Two windows in the chimney open into two small rooms surrounded on three sides by the chimney. The house was sold to Colonel Robert Palmer in the 1760s. Early in the 19th century it passed to the Marsh family. Today, a National Historic Landmark, it is known as the Palmer-Marsh House. Michael Coutanch is interred in the back of the yard.
In all probability, Richard Evans discussed his migration to Pitt County with his father-in-law in this house, thus setting in motion a chain of events that was to culminate in the establishment of another town up the river. On his southern tour, George Washington was to refer to Greenville as "that trifling place."
Guided tours of the Palmer-Marsh House are available to the visiting public.
The content contained herein does not necessarily represent the position of the NSDAR. Hyperlinks to other sites are not the responsibility of the NSDAR, the state organizations, or individual DAR chapters.